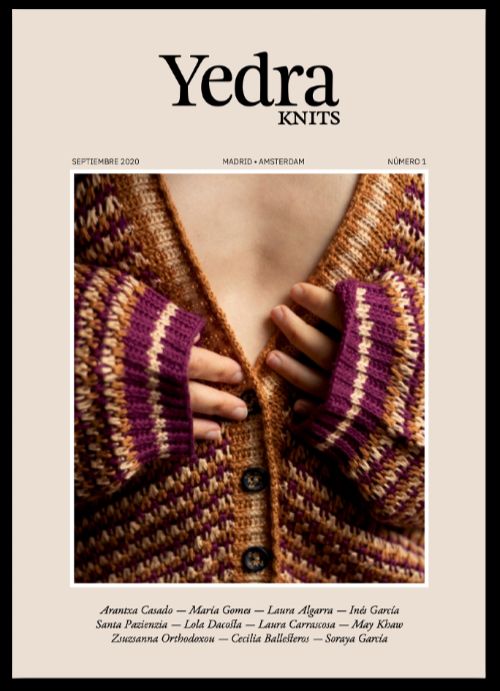 A few days before number 5 of Bellota arrived to our hands, we spoke with Soraya García, creative director and editor of the magazine, so she can explain us what we can expect from this edition and how the process of carrying it out has been.
As we are writing this post, we already know that there will not be an issue 5 of Bellota. So we talk about the journey and the experience with Bellota, but also about this new adventure with Yedra Knits.
Miss Kits: Issue 4 of Bellota was a magazine dedicated to women. Strong women inspired the names of the patterns, creative women designed them, intelligent women wrote interesting articles, beautiful and empowered women take the pictures and modelled for them. What is the common thread of the first issue of Yedra Knits and how it shows in the patterns that we will knit?
Soraya García: Due to the confinement and the March crisis, this issue is the union of the two great themes that we had thought for the two issues this year. The first one was "Postcards and cards", for this reason the 50 first clients of our presale got a postcard that I have written myself this summer. The second theme was "Pirates". The names of the patterns are related with cities, names of pirates and names of winds that makes us think in travels in the sea, and always have our sight on a distant horizon that makes us grow and dream as far as our needles take us. 
The pirates theme shows in the eights, in the inspiration of the jackets of some garments and in how we have take some pictures... In terms of concept, we believe that every knitter is a "pirate", in the most "hacker" sense of the word because in the end, what we do is to intervene in the usual system of fashion production to create our own clothes.

M.K.: As in previous editions, Bellota 5 (now Yedra Knits) will be available also in English. When Bellota came out in the spring of 2018 it was a total revolution as it was a neat publication on paper and also with patterns written in Spanish, something that had a magnificent reception despite the fact that most of its audience was not used to the knitting terminology in Spanish. How do you think this effort of offering these two versions of the magazine is received?
S.G.: The idea to publish Bellota was born from the lack of specialized and independent publications in Spanish. However, my presence at international festivals and my contact with Europe due to my personal situation, made my followers immediately ask me for the translation. This year... we have made an interesting turn. We have signed with an international distributor and now we are printing 3 times more of magazines in English than Spanish. I always knew that it was likely to happen in the moment we decided to translate the magazine. However, even if 50 thousand copies were printed in English, the small print run that we do in Spanish will still be there, because it is the very essence of the project. It is a totally new experience, we are going to sell, for example, in Australia. Something that 3 years ago had not even crossed my mind.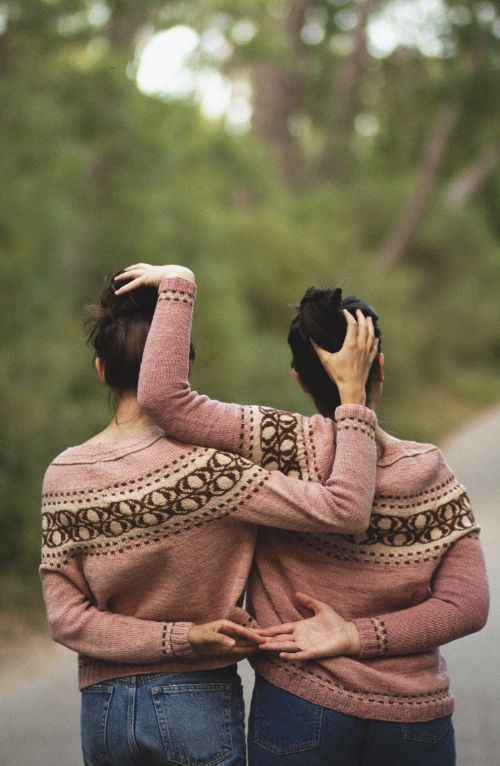 M.K.: Recently, you have launched a course to learn how to write knitting patterns. You commented when you announced it that when you started editing Bellota you had no experience on writing patterns. How many things has Bellota/Yedra taught you in these two years?
S.G.: I had no experience writing patterns, but I did have in knitting them, reading them and about pattern making. In the last two years, when it comes to writing patterns, what I have learned is "all the ways" there are to write a good pattern and all the good ways to edit and correct it. In the course I put a lot of emphasis on the information that experience gives us. In this two years I have learned about finances, data analysis, how to create Facebook ads and how to generate experientiality with my clients. I have also learned to value all the thing that I had learned working in a multinational firm for so many years and I have known myself as a person. I have discovered my ability to inspire, to guide designers in their professional career, my motivational capacity and my resilience. I have learned not to get hot flashes and to accept things that don't go well for me. It has been a continuous growth that I fell super happy about. It is my personal MBA.
M.K.: This has been an special edition. The well-known context (confinement and pandemic) has surely involved many challenges that we are not aware of when we enthusiastically read the magazine. Could you give us a brief summary of what the process of creating a magazine like Bellota 5 / Yedra Knits 1 is?
S.G.: To begin with, we had to decide whether or not to launch. If we lost all the money and work already invested or if we took a risk with a digital presale that could be complex for the distributors and for an audience that was going to have to advance the money and wait for a content that was not yet finished. It was a trustworthy gamble that has been rewarding and exciting. THANKS!
Then, we found ourselves with two half-done numbers, we had to discard content from one issue and make a cohesive edition with the contents of the next one, we have had to do a rebranding and change our name... but I think that the most important challenge has been the issue with the pictures.
In march I found myself with borders closed and with 10 garments in XXXL size, a confined model and a photographer with tremendous courage who has put her imagination, her body, her home and her privacy at the service of the project. Vane has been the photographer, the stylist, the model... and everything with a minimum direction through Whatsapp audios and screenshots. We have worked at distance, but perhaps closer than ever. It has been a challenge from which we have emerged reinforced as a project, as a team and as creatives.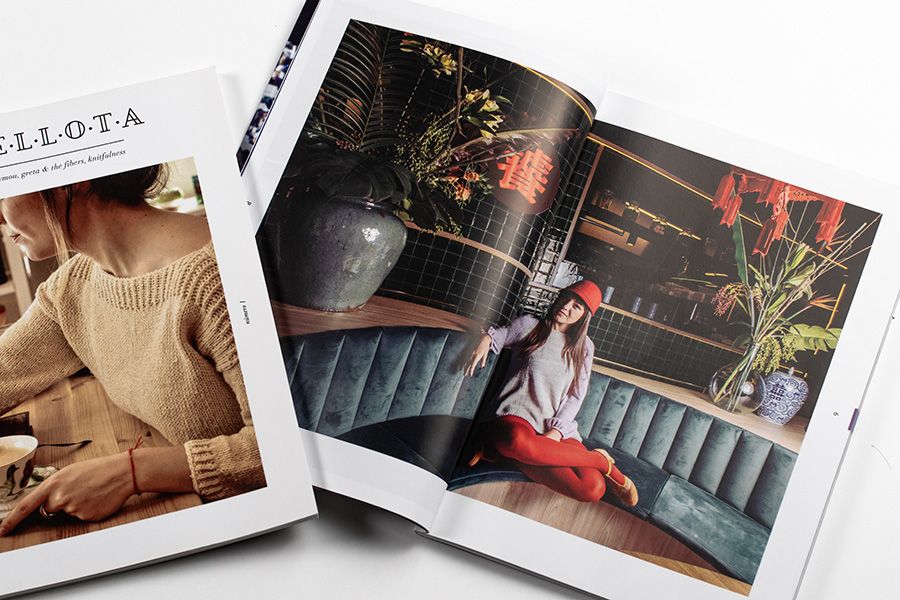 M.K.: In two years Bellotas has turned in a consolidated project, a magazine that their readers wait and reserve with the same enthusiasm than a Pom Pom or a Laine. Like these publications, you already have a distinctive seal, a character, an aesthetic that identifies and distinguishes it. Do you face new editorial challenges such as publishing books as long-awaited and carefully produced as Laine's 52 weeks of socks or Knit How by Pom Pom with your seal? What new challenges you foresee?
S.G.: Thanks! I can believe hearing this, although I can't believe listening to this, although the evidence jumps in my eyes and I find it difficult to contain the emotion always. For now, we will do one star number per year. Wider and with more content, as we have made in this issue. That brings us the space to work more slowly and calmly. So I think that yes, we will have time to try to do something more book-like looking. For now, we are focused giving courses and preparing a cool training program. We have discovered that people want to learn with me and with the rest of the team and this is a big enough challenge. We are learning how to edit courses, how to generate a knitting teaching our way, how to make it technically possible.
M.K.: To end with the interview, surely when we will open Yedra Knits we will want to knit all patterns. Which of them would you start with and with which yarn of all the ones we offer at Miss Kits would you suggest knitting it?
S.G.: Hummm, how difficult! Truth be told this issue has several patterns that can be knitted "without leaving Miss Kits". You have all the yarns for the shawls: Greta and the Fibers, Feliz y punto, Casasol's Merino DK …and for the sweaters I will choose the wool from El Robledal or Tréliz. There is also the Jacquotte sweater, designed to be knit with any yarn and that can be made with any yarn ball of the great selection of Katia yarns orDROPS that you have at Miss Kits. But I think that I would start with the frontpage, that it is a cardigan made in Tunisian crochet. It is a garment that we have chosen for the frontpage because we think that makers in Bellota Comunity are brave and daring knitters, that want to learn new things and jump to new challenges. What do you think?