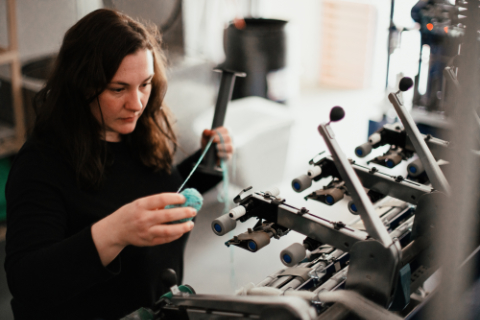 On June last year, in the middle of the first COVID-19 pandemic wave and with a new-born in her arms, Jess, the indie dyer behind the Olann skeins that you love so much, told us with illusion -and a bit of fear- that she just acquired a mill for spinning her own yarn in Ireland. 
This was a project in which she has been working a long time behind the curtains, assessing its viability, studying the profitability vs. her need to shape an illusion she had forged in her head long ago. It did not seem like the best time to embark on such an adventure, but it was the next step to follow.
It was not a light decision or an easy path. This last year, Jess has been testing the spinning mill, the fibers, the colors... and truth be told, the mill has been testing Jess's tenacity. This huge machine for processing fibers into the wonderful yarn with which you will knit shawls and sweaters is not an easy tool to handle.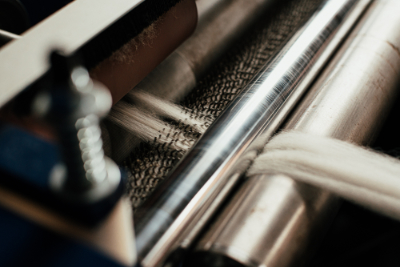 Jess's idea is to create a sustainable yarn with local fibers from Ireland, where she lives and has her mill. Despite being a huge and complicated machine, Olann Mills is a small semi-worsted mill compared to large spinning factories. The whole process of fiber selection, dyeing, carding, washing... goes through the hands of Jess and her small team. So yes, Meára - Olann Mill Yarn is what we consider an artisan yarn and a little treasure for your handmade projects.
Spinning large quantities of wool with a regular result and quality has been a much greater challenge than expected. Still, Jess has not given up and her efforts have resulted in these wonderful skeins that we can offer you today at Miss Kits. And it is no small thing to say this. For all the processes involved in Jess's almost artisanal work, the attention to detail, the selection of fibers, and the choice of colors, the production of this yarn is very exclusive and limited. There are not many Meára - Olann Mill Yarn skeins and there were many of us who wanted to stock them. Only a few stores worldwide have had the honor of being chosen by Jess to have Meára - Olann Mill Yarn among their product range.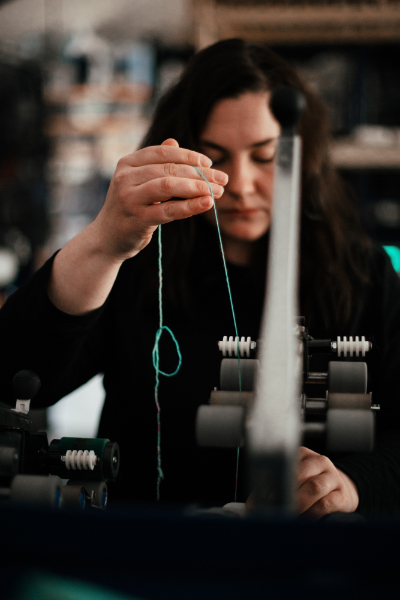 The skeins that we present to you today are made of 100% Merino wool and are fingering weight. Each 100 gram skein has about 420 meters of soft wool with a slightly rustic drape.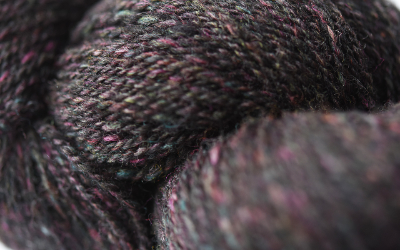 Meára - Olann Mill Yarn is available in 20 different colors. Although these are not hand-dyed skeins as you usually know them, Jess's experience and trajectory as an artisan dyer can be seen in the myriad of shades that appear throughout each strand. You might think these are solid hues from afar, but when you take a closer look at each Meára - Olann Mill Yarn skein, you will see the different colors inspired by Jess's environment and heritage in Ireland, carefully considered and later individually hand-dyed, then cleverly blended on the card. Finally, the fibers reach your hands as a lustrous and resistant thread of incredible colors that we are sure you will love.
We hope that this new addition to the wall of sin at Miss Kits stores will excite you as much as we do. You can see all the colors and technical specifications of Meára - Olann Mill Yarn here. So tell us, what are you going to knit with Meára - Olann Mill Yarn?