At Miss Kits, you may have seen it in our logo, we have a tagline: we are your yarn shop.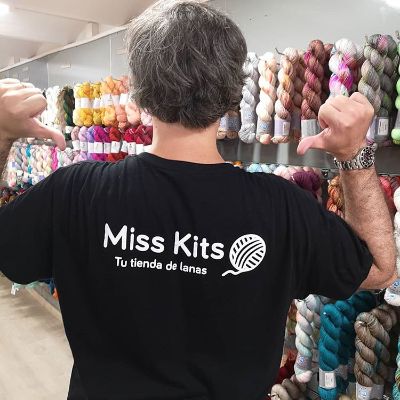 When Àlex and Vane opened the shop, onlgy 4 years ago, we occupied a small place in the Sant Gervasi neighbourhood of Barcelona. The place, the size of the shop or the youth of the project did not limit us in our purpose: we wanted to be your yarn shop, wherever you were. 
Thus, from the first day we have worked to also offer our selection of yarns and accessories for knit and crochet on a web page from which you could inform yourself and buy yarn without having to worry about whether the distance would prevent you from reaching the skein that you wanted before our closing time.
In 2017 we had the chance to move to our current location in Aribau Street. The new shop was only few steps away in the same neighbourhood, because we didn't wan to loose the contact with our people, but at the same time it allowed us to offer more variety of yarn brands, like DROPS, Katia and hand dyed yarns from indie dyers worldwide. The new location also had space enough to make knitting parties and let you show us your projects.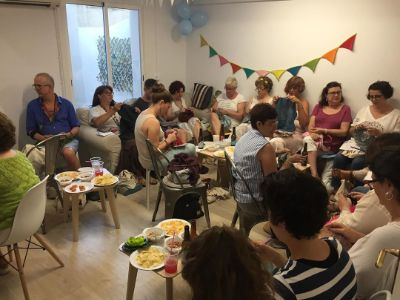 These spaces and the good moments that we spend here can not be shared in an online store. Some will say that the virtual thing does not have the essence of the daily experience of a local shop. But for us being able to admire the sweater that you have knitted in Galicia with the skeins that we have suggested you, to see how you make progress in the crochet project for which we helped you choosing the yarns or to know that you just received in your Seville home the wool you bought yesterday thanks to the stories that you post on Instagram gives us the same happiness. And also we share images and moments lived in the shop in our social media accounts for those of you who are a little bit far or can not come to the shop daily. We want you to live it as if you were here.
We love to welcome you to the store, see you smile (lately with the mask and just with your eyes, but the shine in them when you see all the skeins in our "wall of sins" says everything) and asking you if your sister liked the shawl you made for her. As we are also excited to discover small towns in Spain (and Europe!) through your online orders, with indications such as "the house with the yellow facade, next to the fountain" because where you live the streets have no names nor the houses number, and your nearest yarn store is just a few clicks away with the computer.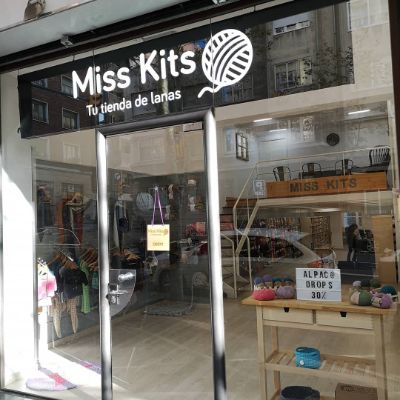 Next September 12th is the  Local Yarn Store Day, an initiative to celebrate the existence of physical wool stores, where to buy and let you advise between yarn balls and skeins, and share this hobby with like-minded people. LYS Day (that should have been in April but had to be postponed due to the pandemic) is also, why not say it, an initiative to promote sales in local stores in the face of the unfounded fear that they would have to close because of online stores, as if these were a gigantic soulless entity devouring the efforts of our relatives and neighbours.
But if we have learnt something through these last months, when we have lived an unexpected situation of confinement that lasted several weeks, is that the online thing is not the opposite of the local traditional shopping. A small shop run by your neighbours can be that and sell products to people like you that does not have a similar shop nearby in the other part of the country at the same time. Having a space in Internet allowed lots of shops like us to weather the storm, and reach our clients without put them or our team at risk. Lifelong family businesses, despite having the blinds down, have been able to have a window open to the world and thanks to their presence on the Internet today they can continue to open the door to their neighbours.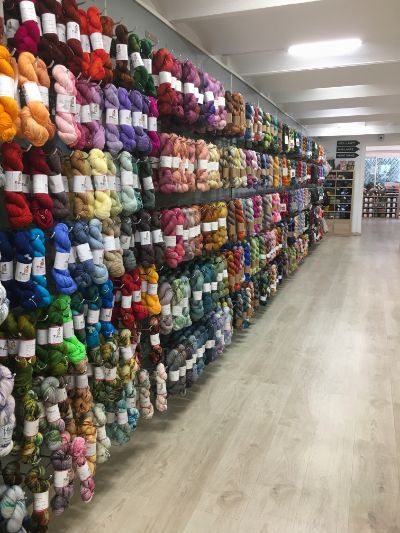 Is for that reason that, although we love to welcome you daily in our Aribau street store, in this day of celebration of the local yarn shops, we do not want to discriminate our neighbours of the online neighbourhood, independently of the actual kilometers between us, because their support (your support) allowed us to arrive here.
On September 12th, coinciding with Local Yarn Store Day, Miss Kits store on Aribau street will remain closed (Friday the 11th is a holiday in Catalonia and we will take a few days off). But throughout the weekend, from September 11th to 13th, all orders placed in our online store will have a 10% discount with the code lovemisskits. This is our way of celebrating and thanking you for always supporting Miss Kits, your yarn store.